Fiddle Rock - The Band
It's just the two of us...with a lot of volume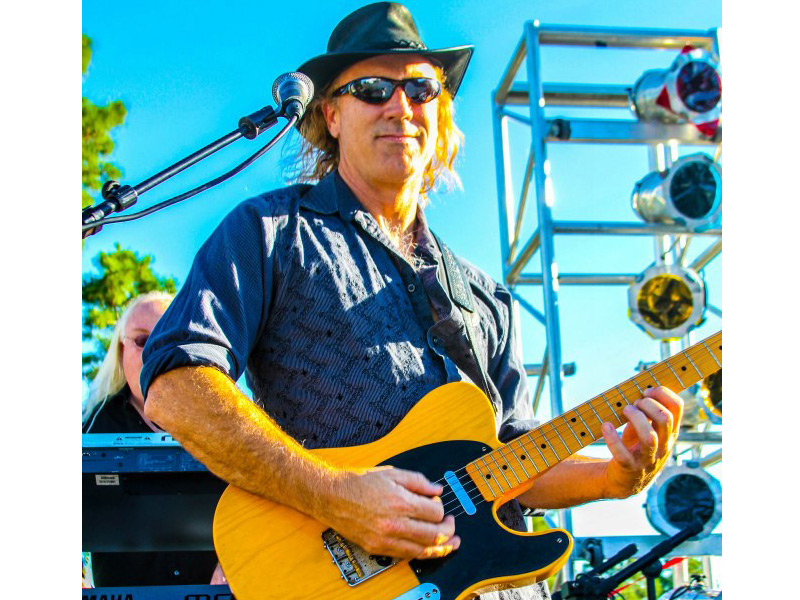 Steve Hall
Guitar, Vocals

I was born in Jacksonville, Arkansas and moved to Florida shortly after birth.  As the grandson of Vernon Way – of Vernon Way and his Carolina Swing Band – I was introduced to music at a very early age. I began playing guitar when a cousin gave me an old gut string guitar at the age of 9.
During the 80's I was a submarine sonar technician about the USS Gator (SSN-615) and USS Phoenix (SSN-702) – traveled around the world – and played in most all ports of call during my time.
During the 90's I was one of the founding members of The Watermelon Creek Band in Alabama – recording only one cd before disbanding.
In 2003, I joined up with the artist, Eric Stone, and went on the road as his touring lead guitarist. We travel around the world – including Meeting Of The Minds in Key West, and one special trip where we played in the Kingdom of Tonga. Great times with the Latitudes and Attitudes Magazine folks. I retired from full-time on the road in 2013.
I met Randy while on tour with Eric Stone, back in 2006, up in Binghamton, New York.  Randy was working as monitor engineer/stage manager at the venue we were playing at.  He and I clicked immediately, and became instant friends.  I told him of my life, living on my sailboat, and playing shows around the world.  Randy shared that dream.
One day, in late 2012, I arrived to play a show with Eric Stone, only to find that Randy had moved to the Florida Keys, and was playing in the Marathon area.  Fate had it that I was bringing my boat to live in Marathon, too.  It wasn't long before we were playing music together.  Now, here we are.
Fender Telecaster

70%

Fender Stratocaster

30%

Vocals

65%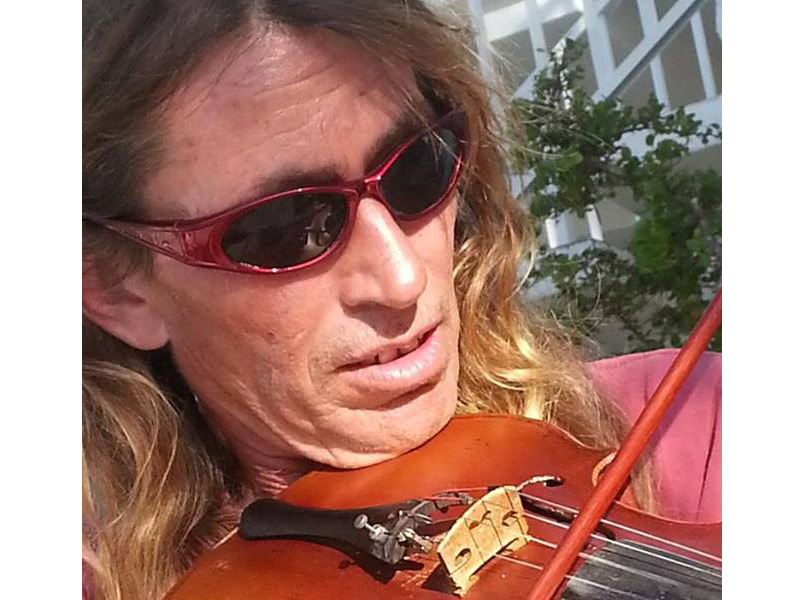 Randy Barnett
Fiddle, Vocals
I was born in Greene, New York back in the 60's, and grew up playing music in the Binghamton area.  I began playing piano at the age of five on my Great Grandmother's piano.  I used to make up songs and little stories to go with the music I was playing.  A the age of 9, my brother Dan introduced me to the guitar.  In 6th grade, I joined the school band, and began playing the flute.  It was when I was 14 that my Grandmother gave me my Great-Great Grandfather's violin.  I immediately took to the violin, learning Led Zeppelin and Jimi Hendrix songs.
During the 80's I played bass, lead guitar, and violin in several groups in the Binghamton area.  We were popular and played mostly folk music.  In one group I was in, Truman's Cabin, we were selected to play on Saturday Night Live, but were pre-empted by the writer's strike.
In the 90's I played with Hollywood Joe at the Woodstock 25th Reunion Festival.  It was an unforgettable experience.  There is nothing like seeing over 50,000 people while you are playing your fiddle.  Nothing in the world like it.  Then, I did a short tour with Richie Havens in the New York area.
I began running sound in '95, after the Richie Haven's tour.  I worked for Sound Concepts and Lighting, and did production for literally thousands of major touring acts.  I began as FOH engineer, and then as the company grew I became monitor tech/stage manager. I've worked with the Clinton Administration, Asia, Olivia Newton-John, Neil Sedaka, RatDog, Green Day, The Pussycat Dolls, Eric Stone, and countless others.
In late 2006 I decided that I had enough of production and went back to performing music.  I began performing with Joe Stento, a musician from the Binghamton area.  Then I started doing freelance shows with whomever would let me play.  I hosted many open mic nights, paying my dues.
In 2011, I move to the Florida Keys and moved aboard a sailboat.  I began working at Rocco's Dockside as Entertainment Director, and hosted Sunday Open Jam, which is a major event in the Marathon area.   This is where Steve and I met back up and began to start playing together.  We'd meet at Super Tuesday Beach Day at Sombreo Beach and play for hours.
We picked up a few local shows under the name Steve and Randy.  After a few months we knew we needed a name, and Fiddle Rock was the one we decided on.
There it is, all in a nutshell.
Fiddle

85%

Guitar

15%

Vocals

50%

Make sure to like our fan page on Facebook so you can keep up with our tour dates and more.
Don't Be Shy. Get In Touch.
If you are interested in working together, send us an inquiry and we will get back to you as soon as we can!
Contact Us